Digital diagnostic imaging and fluoroscopy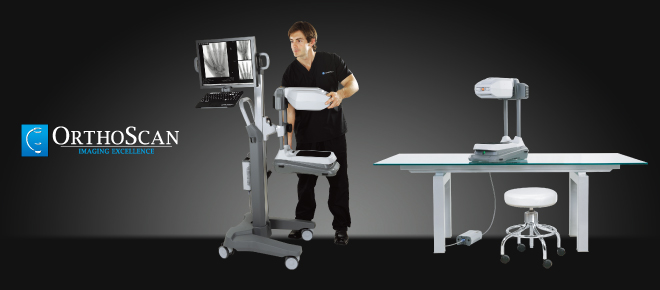 Digital diagnostic imaging and fluoroscopy
OrthoScan Mobile DI
Exceptional image quality
The OrthoScan Mobile DI with flat detector is the new standard in mini c-arm imaging. Fine details of relevant anatomy are visible due to the increased gray scale and contrast capability of flat detector technology. The OrthoScan Mobile DI reduces the distortion inherent with image intensifier technology, improving diagnostic accuracy.
Imaging flexibility
OrthoScan Mobile DI provides easy access to shoulder images as well as weight-bearing knee and foot views. OrthoScan Mobile DI can be placed on a table top or mounted on an accessory cart enabling Mobile DI to move easily between rooms. The accessory cart also provides orbital c-arm rotation needed for shoulder and knee views. OrthoScan Mobile DI offers an optional custom case with wheels for easy transport between facilities.
Portable, light weight
The portability of OrthoScan Mobile DI offers ease of movement between patient rooms, satellite clinics, urgent care centers, emergency departments, athletic team venues, and military units. Weighing approximately 35 pounds, OrthoScan Mobile DI introduces versatility to orthopaedic imaging.
User interface
OrthoScan Mobile DI has a simple interface that allows the user to perform basic imaging with little, if any, preparation. The custom keyboard allows single key access to most functions. Mobile DI images can be viewed on monitor or tablet interfaces. The images can be transferred wirelessly.
Clinical images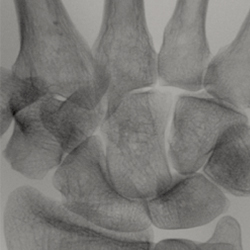 Flat Detector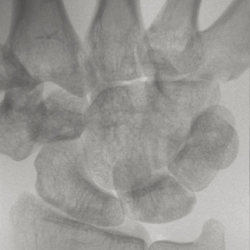 Image Intensifier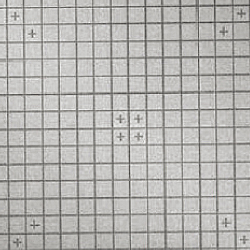 Flat Detector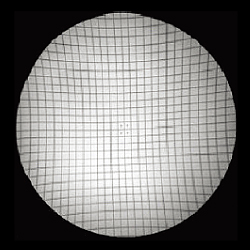 Image Intensifier
Portable, light weight

35lbs(16kg) & 25"h(64cm), can be easily moved from station to station and base to base
Specifications
FLAT DETECTOR
Detector resolution: 2k x 1.5k
Field of view: 6″ (15cm) x 5″ (12cm) and 4″ (10cm) x 3″ (8cm) Foot Switch
X-RAY MONOBLOCK
DOCUMENTATION
SIZE AND DIMENSIONS


(including accesary cart)

kV range: 40 - 78kVp
mA range: 0.04 - 0.160mA
Image capacity: 8000
Video (optional): 90 minutes
DICOM Send & DICOM Print USB 2.0 ports
Weight: approx. 60kg
Height: 168cm
Width: 61cm
Depth: 99cm